Since I don't have enough knowledge in VB and time(at least 1k+ errors from VB6 to VB .net project conversion) to convert pieslicer to C#/mono successfully, I decided to write a new pie modelling tool from scratch in C++/SDL/opengl/AntTweak
The internal data organization is almost finished,currently I am able to load pie into internal storage/export the internal format into pies properly with modified version of imd.c , imdloader.c from warzone.Some basic controls are already implemented, you can rotate the model using RMB and scale the model using middle button.
Here are some pictures showing pie toaster in action:
green quad = connector red quad = vertice
http://img133.imagevenue.com/img.php?im ... _454lo.jpg
http://img157.imagevenue.com/img.php?im ... _970lo.jpg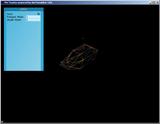 http://img103.imagevenue.com/view.php?i ... _988lo.jpg
I plan to add polygon linker and per polygon texture mapper like pie slicer did,also I want to add a per-pie texture mapper,to make mapping textures.
Just let me know if you want other features implemented,then I'll look into the possibilities.