New map:
TheRiver
Idea by Olrox --->
Original topic
Made by KukY
4 player 128x128 map.
Players start with 4 trucks and a HQ.
6 oil in base, 2 oil on entrance to base, 1 oil on each bumpy area.
Scavangers: No active scavs, if on, each bumpy area will be guarded by a Twin Assault Gun Hardpoint, and each bridge will be guarded with a Cannon Fortress.
This map has lots of gateways placed so prepare on AI building lot of defenses.
Preview: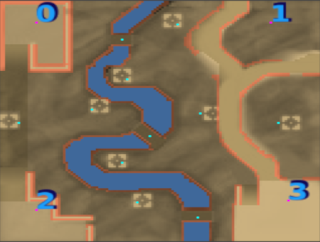 Heightmap:

Download:
Source:
<soon>
<You don't need it, flaME can open WZ files.>