**Editing Post to Make Better Sense**
I'm working on some higher poly, sexy looking, 3d models for WZ2100, these will be free to use by anyone at all who wants to, of course. I will be posting pics of the models and progress in this thread, hope to hear what yall think. Comments, suggestions, crituques- all good to hear
Along those lines, if you have a special request, whether for a whole new model or just a different version of one of these, etc, please let me know!
On a side note, I am primarily building these models to be used in my own project, a re-creation of Warzone 2100 using the fantastic next-gen Unity engine, which I have already purchased a license for! I know it is a huge project, and a long shot at best but well worth the effort I believe. If anybody wants to help out, or just some more information on the Unity WZ2100 project, please contact me ASAP! (
www.ofgabriel.com
)
****
September 20th
New Model Finished: "Hardcrete Wall"
So here is the first- nothing too fancy, just an updated "hardcrete wall", but I wanted to start small and make sure I'm getting the art direction correct.
Front
Back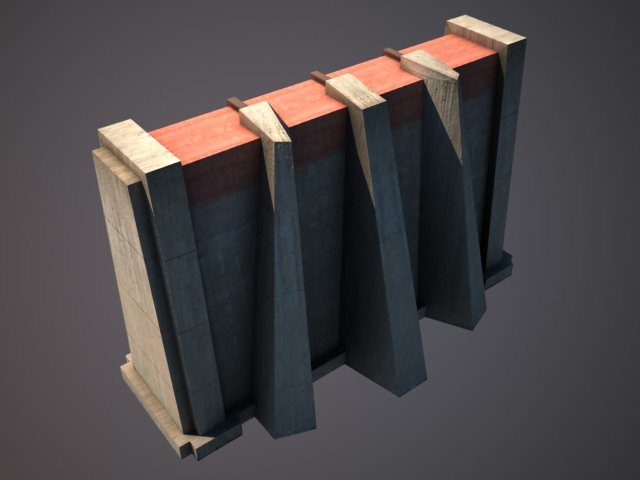 I will be recreating a version of this, symmetrical instead of "two sided", for use with the original WZ2100. Will be doing both sides, so two different walls, will put up an alert when those are ready!
****
September 20th 10pm update
New Model Progress: "Gun Tower"
Working this one out, a lot of great suggestions from people so far. Should be finished fairly soon, but I'm back to the grind at work tomorrow, so maybe not till next weekend. Here are some pics of the progress so far:
I'm really liking how the turret itself is coming along on this one, but if anyone has different thoughts, lemme know
Also, I will def be widening the stance of the tower itself, per notes by many people.
Also, I understand it will need a LOT of polys cut for use in-game, I usually like to work in high-poly first though. Later!
***
Thanks everybody for the ton of input so far, really appreciate it (and seriously, special requests will make me move faster, so gimme gimme!)
More material soon