I am thinking of a better way to explain this, but within the game I came across an interesting function that essentially makes the Units with veterancy stronger, and also have a lower chance to get hit. So, I mainly have two main questions.
1. What file within the Warzone file structure governs unit experience, and their bonuses?
2. Is it possible at all to add these features to a unit WITHOUT them gaining experience? For example, would it be possible to make a function where a certain body
"lets say the New Paradigm bodies"
have a lower chance of getting hit right out of the gate? Or would it be possible to make certain types of weapons more or less accurate against specific body types or propulsion systems?
For example, making machine guns less accurate against hovers and VTOLS?
I got this idea from an old game series called Vigilante 8. In that game you had 4 main factors of a car.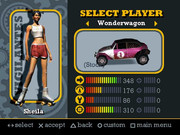 It's Speed, Aceleration, HP, and "Avoidance Rating" the avoidance rating is the little crosshair at the bottom. Essentially the higher the avoidance rating, the lower the chance to hit the car with weapons like guided missiles and cannons. Would it be at all possible to implement a system such as this into warzone? Thanks.
-----------------------------------------------------------------------------------------------------
Edit; After reading through some of the past discussions on this topic, I came to some conclusions
I think the simplest way to implement this idea, if possible. Is to use the in-built system, I don't think there would be any need for complex formulas for this. The current system that uses the "Longhit" tag works well, however, all you would need to do for this system is to make it like this.
"Weapon Accuracy" - 100 %
"Body Accuracy" - 80 %
"Final accuracy" - 80%
Simply reduce the Weapons accuracy by the accuracy rating of the body.